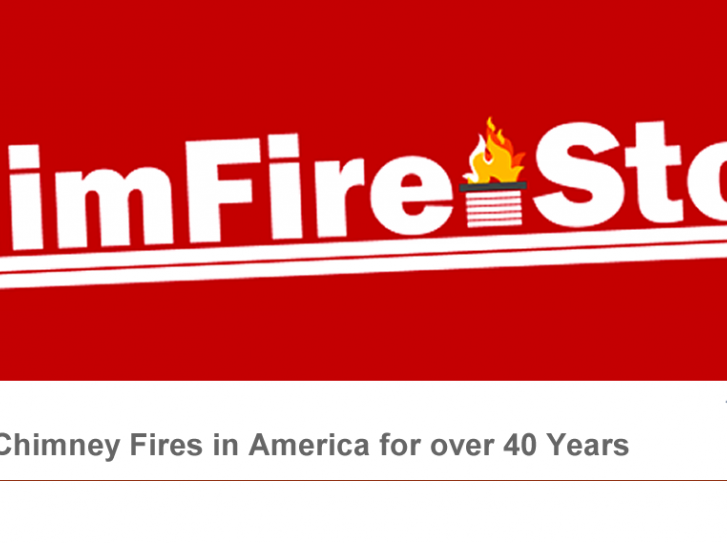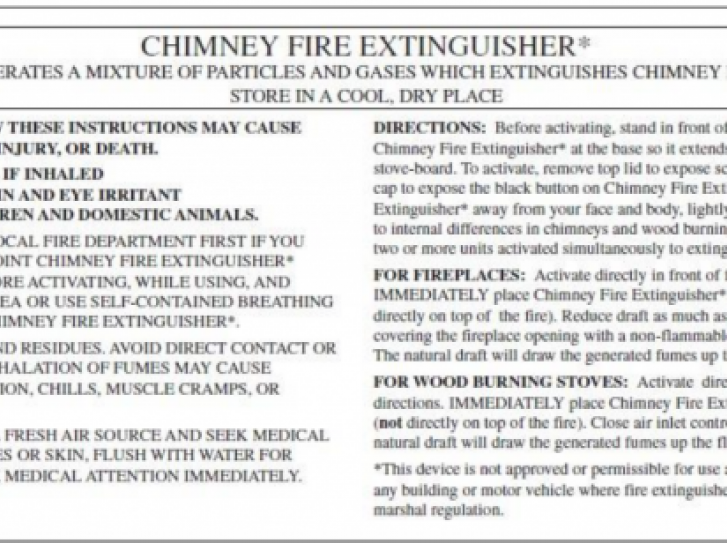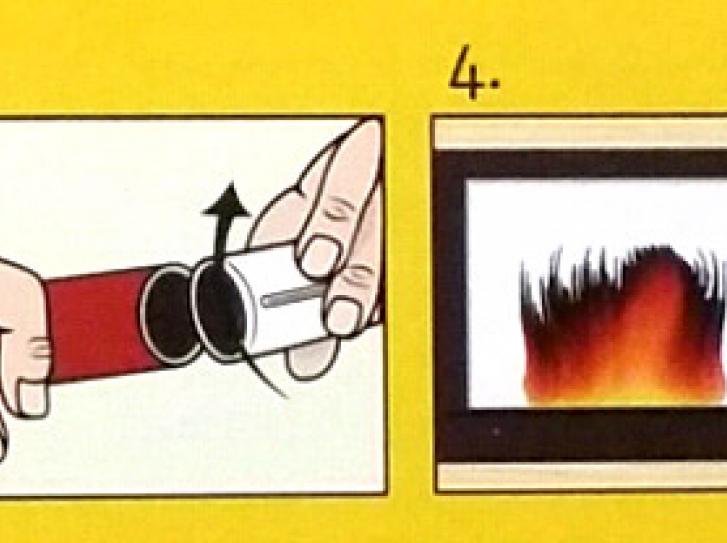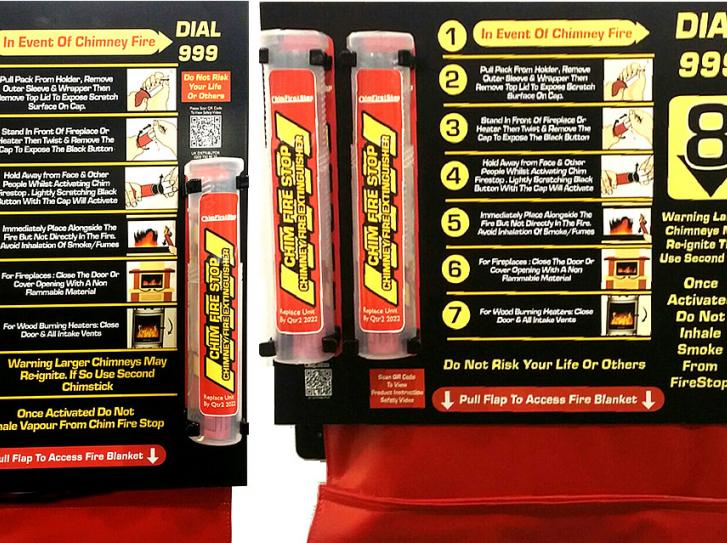 New Product, now avaliable for delivery or when our operative attends your property for installation or maintenance.  Also avaliable from the Showroom in Crawley Down. 
Standard Stick £49.95 incl VAT
Unique Clip Designed Holder £15.00 incl VAT
Commerical Unit £365.00 + VAT
(As per image below, includes two sticks and clips with standard Fire Blanket 1.5m x 1.5m) (Bulk Personalised Units Avaliable at Discounted Prices)
Effective chimney fire control in just three steps:
Step 1: Call emergency services!
Immediately call the emergency services after noticing a chimney fire! ChimFireStop is NOT a replacement for the professional fire department! Always seek help by calling the emergency number and make sure to warn others for your own safety!
Step 2: Activate and place
A prepared person cannot easily be surprised. Make sure to read the instructions carefully and well in advance of an actual situation where you have to use ChimFireStop. When the time comes you may not have time for carefully reading. After activating ChimFireStop, place the stick NEXT to the fire.
Step 3: Extinguishing start immediately after activation, 22 seconds on average!
Due to the mixture of gasses procured by ChimFireStop a chimney fire will choke. The fire can't sustain itself anymore and will go out in an average of just 22 seconds! Be careful! A chimney fire is a fire with highly flammable materials, like tar. The first extinguishing is NOT a guarantee that a fire will stay out. It is recommended that you keep a spare ChimFireStop® in case of a reigniting chimney fire. We strongly recommend owners of big flue systems to always have more sticks in stock. One stick might not do the trick because of the system size.
No Risk of Water Damage
The common method of extinguishing a chimney fire using water and stirrup pump, that can harm the flue and cause other damage to your chimney that requires major repairs due to the excesive water used.  ChimFireStop eliminates any risk of damage caused by water because it does the job without any water at all!  Which could save £'s and also put the fire out faster and more effectivley. 
Fast.
ChimFireStop extinguishes a chimney fire in as little as 22 seconds!
Through special and highly balanced ingredients in ChimFireStop, a chimney fire doesn't stand a chance anymore. After activating, the ChimFireStop® stick begins producing gasses and fumes which will take away one of the 3 sides of the combustion triangle, oxygen. With the lack of oxygen inside your flue system a chimney fire extinguishes in an whopping average of just 22 seconds!
Easy to use
Not much harder than the average match to light a candle with
Some of the already available fire fighting materials need special instruction or proper training to be of perfect use. The biggest strength of ChimFireStop is the simplicity of activating the stick. Everyone who can light a match can now extinguish a hazardous fire in just seconds (children excluded obviously).
Safe
After activating, ChimFireStop will do the rest!
A fireplace or stove can be a real addition to your comfort, reason to make sure your flue system is regularly checked out by a professional. Lack of maintenance or other problems in your system can cause a chimney fire, which is a very hazardous situation in nature: it can escalate very quickly. Secure yourself and your family with a ChimFireStop and beat a chimney fire in just seconds. Take control with ChimFireStop.
ChimFire Stop the European name of Chimfex®:  America's Original Chimney Fire Extinguisher* "NOW IN THE UK"
Protect your home with ChimFireStop, the original chimney fire extinguisher that can extinguish a chimney fire in just seconds!  Safe, fast and easy to use, it's the proven product that's been used in America by firefighters, other safety personnel and professional chimney sweeps and chimney cleaners for more than 40 years.
For Multi Fuel Fireplaces and Wood Heaters
The biggest source of creosote deposits in chimneys is from older conventional wood heaters which make up nearly 80% of wood heaters in use today.
ChimFireStop is designed for use in fireplaces and wood-burning heaters of all sizes – even those with large chimney flues.  Compared to other fire suppressants, ChimFireStop produces more black smoke to replace the oxygen in your chimney and quickly smother the blaze.
In fact, independent testing confirms that ChimFireStop can extinguish a chimney fire in as little as 22 seconds.
Note:  Very large flue systems may require more than one ChimFireStop stick to extinguish the fire.  So Keep an additional stick on hand.
Put Out the Chimney Fire with Confidence!
Once you have rung the Fire Service, UK CALL "999"
ChimFireStop is your first line of defence for controlling a chimney fire.  It's so easy to use!  Just activate ChimFireStop, place it next to the fire, and close the fireplace doors or intake vents on your wood heater.
ChimFireStop does the rest by quickly replacing the oxygen in your chimney and smothering the fire.
(Check out the instruction video on how to use ChimFireStop on this page).
Sometimes, chimney fires can restart because of the residual creosote that remains even after the flames have been snuffed out.  For that reason, we've designed ChimFireStop to continue to produce fumes for the next few minutes to make sure the fire doesn't ignite again.  But we recommend keeping an additional stick on hand just to be sure.
Protect Your Chimney from Damage
ChimFireStop also reduces hot chimney temperatures an average of 53% in just two minutes.  Since chimney fires can create heat approaching 2,000 degrees Fahrenheit, reducing the temperature is vital to protecting your chimney from damage due to a chimney fire.