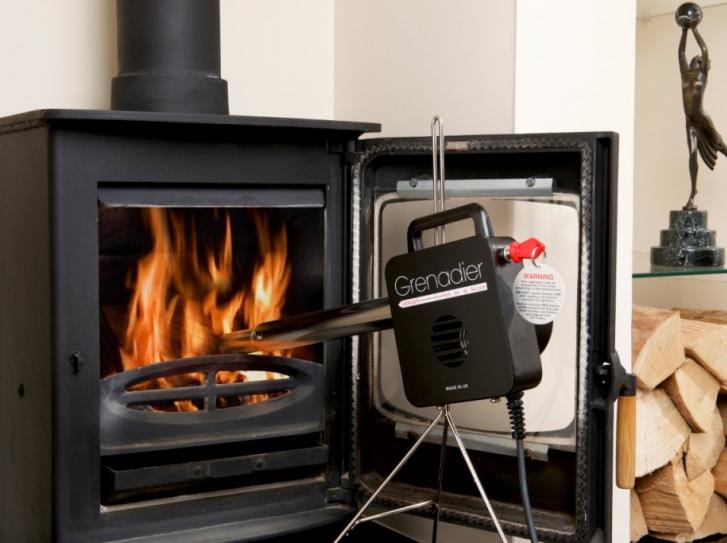 The Award winning Grenadier Electric Firelighter is guaranteed to light any solid fuel fire, including wood, coal and smokeless fuel within minutes.Without matches, paper, sticks or chemical firelighters. Its secret lies in the powerful, concentrated heat which is directed onto the fuel by the built-in fan. The fuel quickly reaches burning point, getting fires going quickly, efficiently and easily, this results in the fire reaching peak efficiency in the shortest possible time.
The Grenadier is so efficient at lighting fires that, over a conservative product life of 20 years, the Grenadier can save you over £500 compared to using Chemical Firelighters. Please see our Blog for further details.
Many customers use their Grenadier for pre-warming problem flues before lighting the fuel.
The Grenadier has a versatile stand which is easily adjustable to the correct height and angle for your fire.The stand has a wide base for stability and is both sturdy and lightweight.
 Designed, Engineered and Manufactured in the U.K.
Safety is an important part of electric firelighter design. With its fully recyclable all-metal construction and 'BEAB Approved' European Safety Mark, the Grenadier has built an unsurpassed safety record through decades of both domestic and commercial use.The Grenadier also has an exceptional reliability record (many still in daily operation after 50 years plus!) but if anything does go wrong all parts are available and no special tools are needed for any repair.
As well as stoves and open fires, the Grenadier also lights barbecues, firepits and pizza ovens and has the major benefit of producing clean heat with no odours, unlike liquid or chemical firelighters. No chemical taste is transferred to the food and the barbecue will be ready to cook much faster, Jamie Oliver recognises the benefits of the Grenadier in his book "Jamie at Home" . The Grenadier also makes the problems of lighting a garden incinerator a thing of the past too. Simply load up the refuse and switch on the Grenadier. The fire will burn quickly and efficiently, so you can burn much more, and you won't be left with smoke in your eyes, chasing charred newspaper round the garden.
No home with a traditional fire or stove should be without a Grenadier Electric Firelighter.
Optional Extra - Only required if the opening to the fuel bed (grate) is more than 31cm (12") above the hearth.
Extra Height Stand - Increases the maximum height of the Grenadier from a standard 31cm (to the underneath of the Grenadier tube when tube is horizontal) to 50cm. This extra 19cm is useful if you have a significantly raised fuel bed or for certain Stoves.
The Extra Height Stand shown against the normal stand which is supplied with all Grenadiers.
Specification:
Height Adjustment: 15.5cm - 50cm
(to the underneath of the Grenadier tube when tube is horizontal).
Base Dimensions: 30.5cm x 30.5cm
Weight: 0.37kg