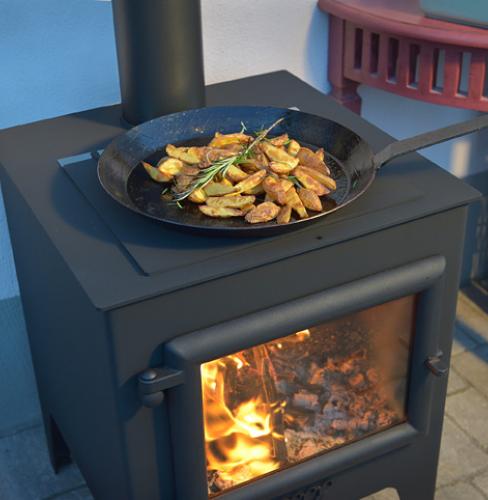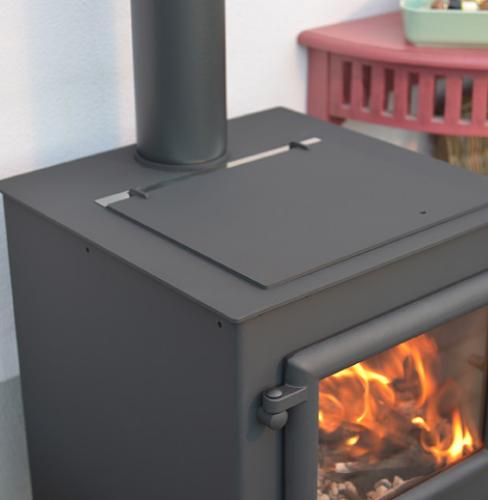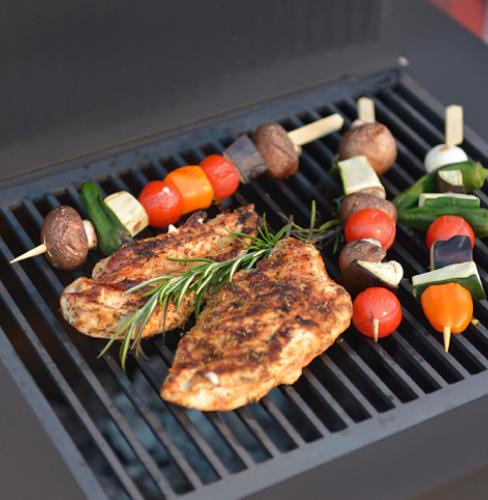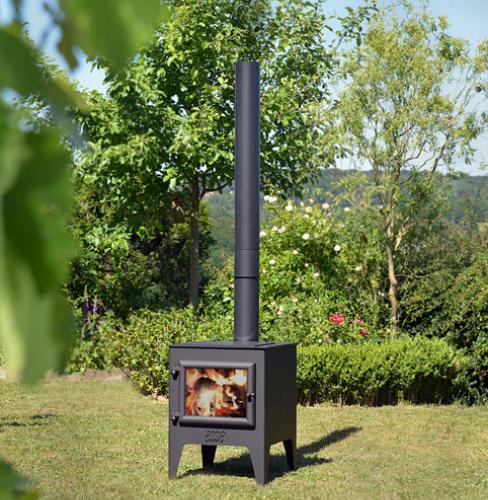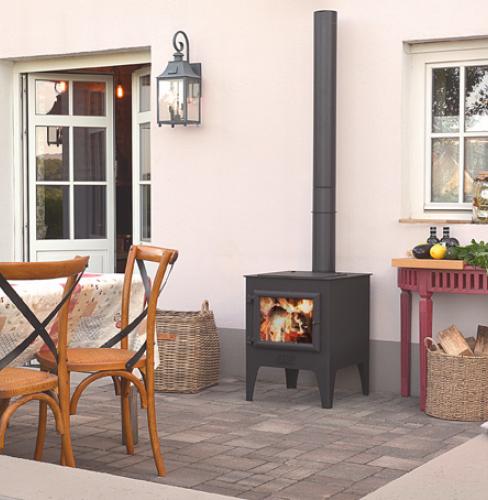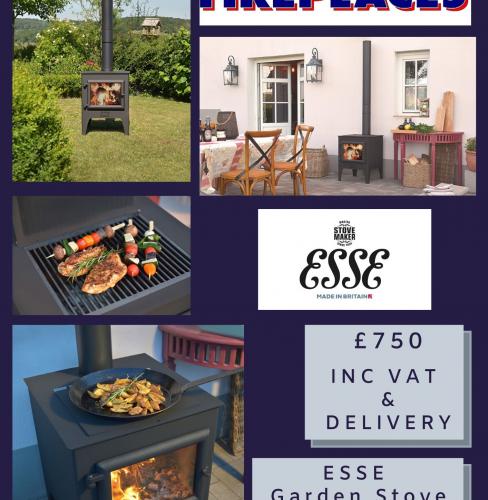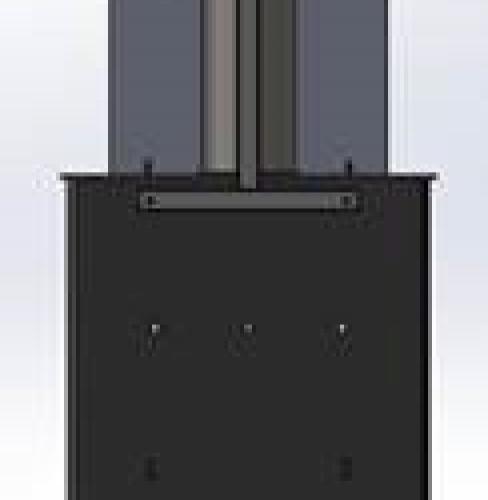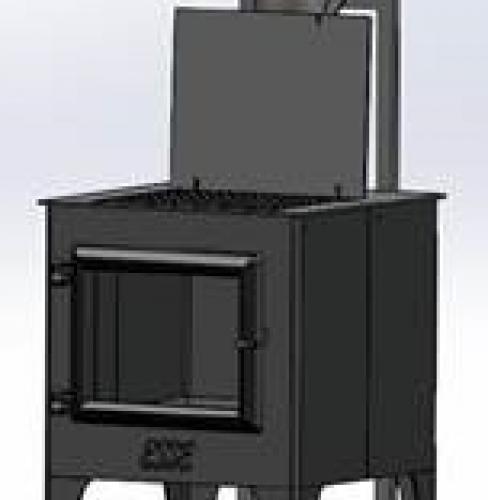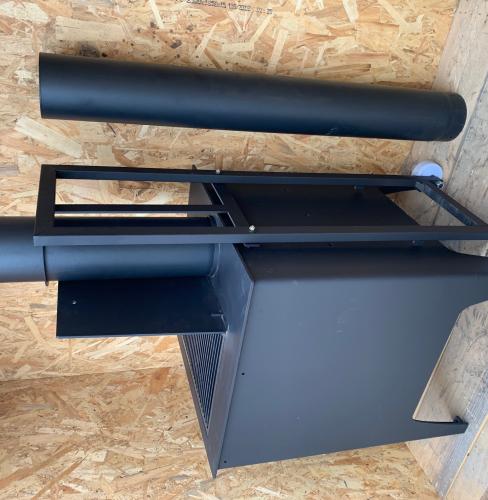 ESSE Garden Stove brings high quality British cast iron woodburning to your Garden. The ESSE Garden Wood-burning stove features a handy cook top to enjoy some wood-fired & cast iron cooking from your very own garden.
https://www.youtube.com/watch?v=AsITX2VtyMw
A new introduction from ESSE  was designed specifically with lockdown in mind to bring some enjoyment to the home. The ESSE Garden stove is for outdoor use only and a dedicated woodburner, ideal to take the chill off a spring afternoon.
Garden Stove features
Hotplate (heat kettle, pans)
Grill
Wheel for positioning the stove
Outdoor use only
Woodburning only
Detachable wheel frame 
Made in Barnoldswick Lancashire
Steel from Wales and Cast from Midlands

 After use, once it has cooled down and cleaned, it can be moved undercover to protect it from the elements. We recommend flax oil to protect the product. 
Garden Stove is an outdoor stove with some cooking capability. It comes with placement wheels to allow it to be easily repositioned or moved after use to protect it from the weather.
It is made in Britain using UK steel and UK Cast parts.
Garden Stove has been designed to burn wood. It is an outdoor appliance. It provides a focal point, takes the chill off an evening in the garden.
With the hotplate down it can be used to heat a kettle or pans. Once the wood has burnt down to embers with the hotplate up Garden Stove offers a simple grill.
ESSE Garden Stove is supplied with wheels – this enables it to be carefully moved into position. After use, once it has cooled down and cleaned, it can we moved undercover to protect it from the elements. We recommend flax oil to protect the product.
The wheel frame can be detached for both security and aesthetic reasons. 
Garden Stove is made with love by ESSE Engineering Ltd in Barnoldswick, Lancashire.
Frequently Asked Questions
How do I keep it looking good? - ESSE Garden Stove wins with the wheels on the back. Use it then clean it and wheel it under cover into a shed or garage. It is painted with high temperature paint especially designed for stoves and barbecues. We recommend treating Garden Stove with flax oil.
What can I burn on Garden Stove? - Wood.
Where is it made? – In Barnoldswick, Lancashire using steel from South Wales, castings from the Midlands and Fluepipe made in Lancashire/ enamelled in Yorkshire.
Background to ESSE
ESSE can trace its origins back to 1854, when an enterprising James Smith established a new business with a mission to build the cleanest and most efficient stoves available.
This family-owned company has been building beautifully engineered and distinctively British stoves and range cookers ever since and remains at the forefront of heating and cooking innovation in Britain.
Every ESSE is hand-built by skilled engineers at ESSE's factory at Barnoldswick on the Lancashire-Yorkshire border.
The company sources raw materials from within Great Britain and exports around the world. ESSE stoves provided clean, dependable heat in Florence Nightingale's field hospitals in the Crimea and accompanied Shackleton and Scott to the Antarctic.
Width – 500mm
Height – 691mm (2100 approx. with flue)
Depth – 600mm (wheel assembly frame adds 65mm to rear when fitted) 
Weight 88kg
Garden Stove works well with ESSE Cast Iron Griddle pan and ESSE Cast Iron dish with Griddle Lid…